A few weeks ago we found out that we need to get glasses for my kinder, Lulu. She has amblyopia, which is the fancy term for lazy-eye. It took a while for the glasses order to arrive and last week we finally got them for her.
First day of glasses for my kinder
The very first day Lulu got to wear her new glasses to kindergarden we talked about how important it is for her to wear her glasses all day long and keep them on.
How the eye doctor said she needs to wear them full time, and they will help her see better and also help her eyes work better.
We talked about the only times she should take her glasses off: to sleep, to bathe, to play sports where you might get hit in the face, like dodgeball (have I ever mentioned how much I despise dodgeball?).
We talked about these things multiple times over the last weeks, ever since getting the prescription and ordering the new glasses for my kinder (She picked out fun purple frames with stars on them). We talked about it when we finally picked up the glasses from the store. We talked about it again that first morning on the drive to school.
Lulu was nervous about wearing her glasses to school for the first time. She is the first kid in her kindergarten class to wear glasses. She put on a brave face but I could tell that she's nervous because she had a temper tantrum over nothing for most of the car ride to school. When we drove up to the school she finally admitted that she's nervous about what the other kids might say. I reassured her the best I could and eventually she happily skipped to class to have her first day as a glasses wearer.
Fast forward to pick up time. I really wish you could be there to witness this. I walk into the after school program to pick Lulu up and see that she's not wearing her new glasses. After all the talks and reminders we had about it. Grrr.
"Why aren't you wearing your glasses?" I ask. "Oh I forgot!" She replies sheepishly. "Where are they?" I ask. "In my pocket" she replies and then proceeds to unzip the pocket on the front of her hoodie. As she unzips, rocks come tumbling out of that pocket. Imagine my shock and surprise when she finally retrieved the glasses with two rocks literally stuck between the lens and the arms of the glasses.
I don't know what my face looked like when I saw this but it couldn't have been good. I managed to not yell, or say much of anything really. But I could see by the look on her face that she knew she'd done something wrong. Though she wasn't sure what it was.
It took me some time to recognize that she tried her best to keep her glasses safe. In all our talks about how to care for her glasses ("don't touch the lens, don't put it face down on any surfaces, don't bend the arms out, don't let others try them on") we did not cover whether you can put the glasses in the same pocket as a bunch of rocks.
Needless to say, the lenses are all scratched up now. We had another long talk about how glasses and rocks don't mix. In retrospect, knowing how much Lulu loves rocks we should have probably foreseen this. But hindsight is 20/20. Unlike those glasses now.
My kinder's amblyopia diagnosis
Lulu was diagnosed with amblyopia. Which is the fancy word for lazy eye. She didn't pass the vision screening test at her 5 year checkup and her doctor recommended that she get a full eye exam.
It was found that Lulu is slightly nearsighted. Which we already expected. But more concerning than that, she has Anisometropic Amblyopia – which means her amblyopia is caused by a big difference between the eyes' focusing ability – basically, one of her eyes is sending blurry images to her brain.
Lulu's right eye is a lot more nearsighted than her left one. Because of this discrepancy, her left eye doesn't have to work as hard to get a clear picture while the picture from right eye is still blurry. Eventually the brain starts ignoring the blurry eye and only uses the better eye for focusing on images.
If left untreated, it can eventually get to the point where a person is blind in one eye simply because their brain basically forgets that it's there. Which sounds really bizarre. Luckily we're nowhere close to that yet. But even with glasses, she won't see 20/20 in the weak eye right now. Read more about it here, "Amblyopia, also known as lazy eye, is a vision development disorder in which an eye fails to achieve normal visual acuity, even with prescription eyeglasses or contact lenses."
Fortunately, Lulu's case is fairly mild still and she's young so she has a good chance of improving the abilities of her right eye to bring it on par with the left one so that the brain uses them equally and both eyes are able to focus equally. In order to do that, she needs to wear glasses full time to correct the nearsightedness in both eyes so they don't have to work so hard. And she has to wear a patch for 2 hours every day to cover the good eye, forcing the brain to use the weak one. She'll have to patch for months or years even while her eyes are developing.
We need to do this so her brain will literally not forget that she has two eyes.
Getting used to glasses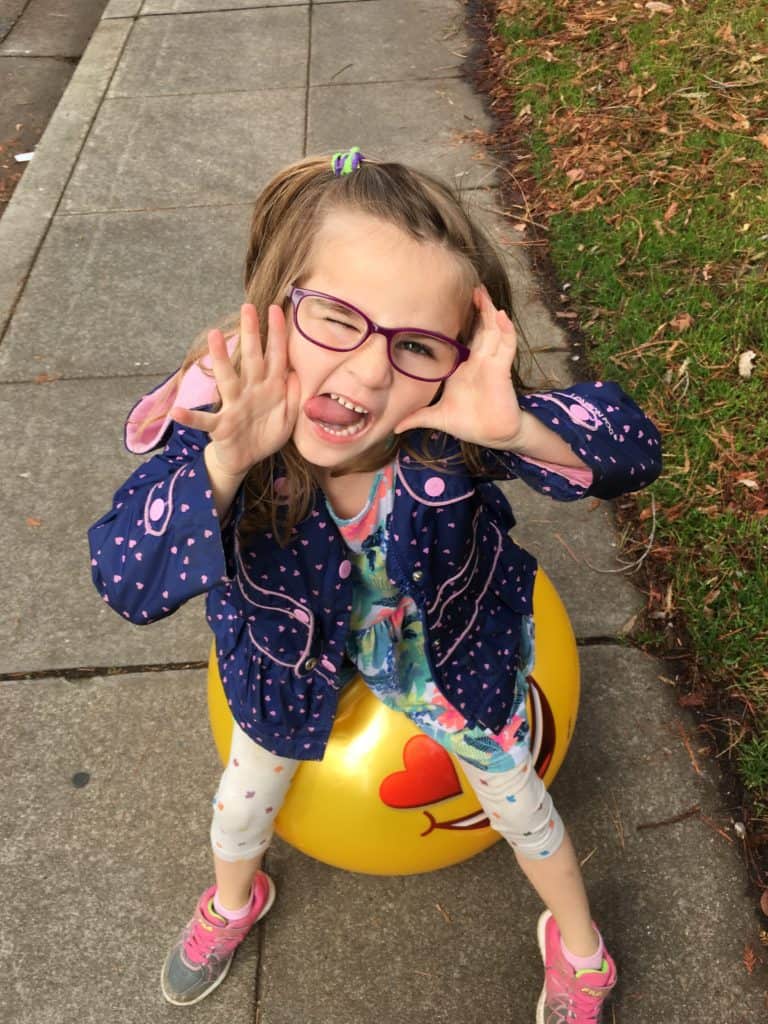 Considering that it's been only a week since we got the glasses for her, I anticipate this to be an bumpy ordeal. But it is getting better every day. So far, even when she's wearing her glasses, she often pushes them down her nose and looking over them instead of through them. Apparently this can be common for kids when they first get new glasses because they're used to seeing the world the old way.
Fortunately, the stigma of wearing glasses is pretty much non existent anymore. We know so many adults and kids, even younger than Lulu, who wear glasses that it's a totally normal occurrence. The frames come in such fun designs and look so cute.
I asked Lulu what her kinder friends thought of her new glasses on the drive home that first day. She said they didn't say anything about it, and I could see that she was relieved that her friends treated her the same as before. Sometimes even good attention can make us feel self conscious. The best thing for my kinder wearing new glasses was no attention at all.
As for me, I keep thinking "what if". What if I'd taken her to the optometrist when she was three? She would probably still need glasses, but maybe the amblyopia wouldn't have developed yet. Mom guilt has me freaking out about subjecting my kid to possibly growing up being blind in one eye. I'm trying to find the balance between making sure she's using her glasses and her patch, and being too pushy. I don't want to create a power struggle around it. I can't do these things for her, I need her cooperation.
So far this week we've gotten a lot of compliments about the new glasses for my kinder. She looks adorable and they seem to suit her. Here's hoping that she'll have an easy time getting used to wearing them. Clearly we still have a lot to learn as a family about having a kiddo in glasses. I also let her teachers know that she needs to be wearing them full time except for sports. So they can try to remind her throughout the day. I really hope that I am getting through to her regarding how important it is for her to wear and use her glasses and patch properly. We may disagree, but I need to trust and remind myself that she's hearing me.
Do you wear glasses or have a kid that does? I'd love to read about other experiences. Leave a comment below!