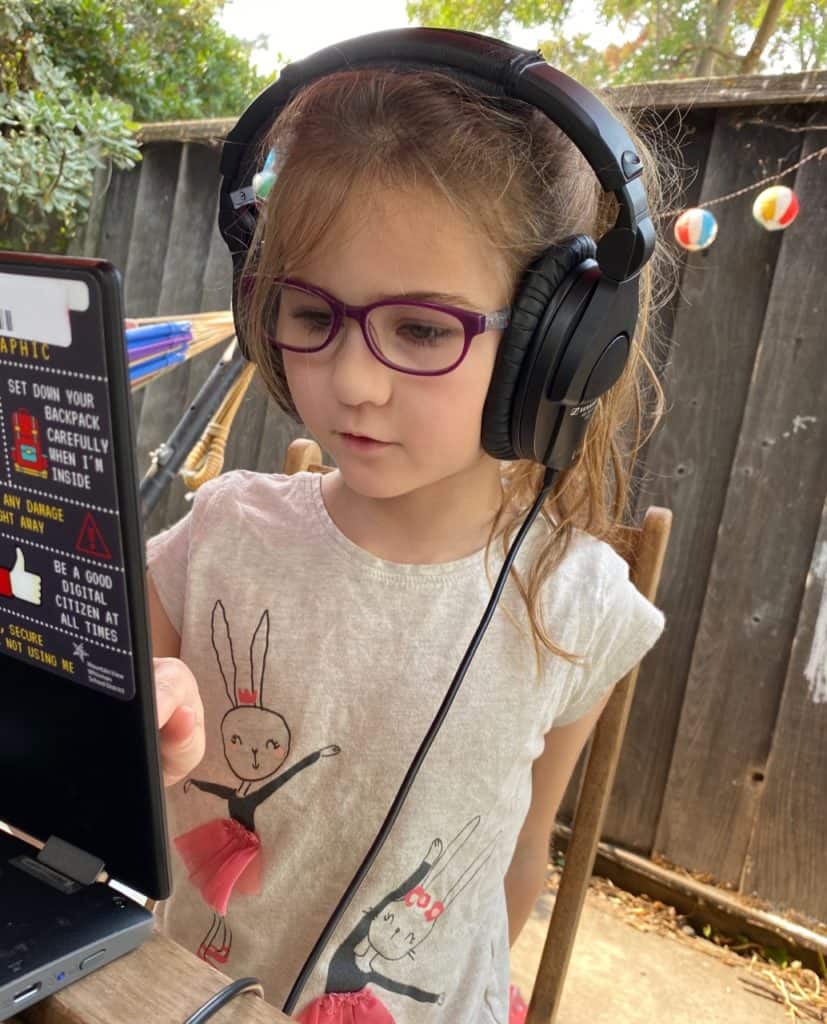 It's the last week of this pandemic school year and I am filled with so many mixed emotions. I thought I'd be thrilled and relieved that this crazy remote learning is over (hopefully). I did not expect to find myself feeling nostalgic about all the great things that this unique remote school year brought into our lives. Don't get me wrong, I can't wait for Lulu to get back to school full time in August. And we definitely all feel a little bit stir crazy with three of us learning and working from home (thank goodness for Booboo still attending in-person preschool!). Even with how difficult this has been at times, I also know that Lulu's school and teacher did an amazing job this year and I wouldn't be here lamenting the end of remote learning if they didn't.
Grade two was unlike any other for all of us. I definitely never had a full school year spent learning from home. I remember TV shows and cartoons from my childhood predicting what school might look like in the future: kids getting out of bed in the morning and moving over to their desks for online school on the computer. Or rows of kids in a classroom, each in front of a screen watching a teacher who is not in the room. These seemingly far-fetched ideas for school became a sudden reality during the coronavirus pandemic and the many lockdowns and stay-home orders we had. It really did feel like we were living through history.
I think if this remote school year has taught us anything, it's that most communities and most children are not ready to switch to full time online schooling. There are exceptions of course, and I am sure there are some kids and families for whom this year has been the best school year. But most of us were reminded that school is not only about the academic lessons. It's about so much more. Friendship and community, group work and field trips. We knew this all along of course, but it's easy to take it for granted. There are of course things about modern schooling that are not ideal and I really hope that this topsy-turvy school year will encourage schools, educators and parents to keep the things that work and rethink the things that do no
For us the school year being remote started with many questions. How much support would Lulu need from us? How much will the teacher expect the parents to help out with? How can both of us work full time from home and still help with school? When will office chairs be back in stock? (seriously, office furniture was sold out all over the place). Turns out we didn't need to worry too much. Kids adapt to technology like moths to a flame. Lulu had zoom and google classroom figured out in no time and was able to "attend" her class fairly independently. Whether she did what she was supposed to in class was a different story.She was often doing things she wasn't supposed to be doing during school time. During PE she remained seated despite the teachers telling the kids to get up and move. We caught her multiple times playing video games on another tab while the teacher was talking. She was forever not able to do her work because she didn't have a pencil. What can you do, kids gonna kid.
Despite all that, there were some things that surprisingly Lulu did better with online than in person. Lulu takes time to warm up to people, she tends to be shy in large groups. The beginnings of the previous school years were a little rough for her, getting used to a new classroom, new teacher and making new friends. Over zoom however, I heard her participate in class more than I expected from the beginning. She actually seemed more confident this year with remote learning. She still misses her friends of course, but there were two friends that we continued to meet with approximately once a week over the past year and this seemed to be enough socializing to keep her happy. Luckily for us this pandemic happened at a time when Lulu's old enough to work somewhat independently, but not so old that we're super worried about her grades and progress with school. I know that's not everyone's experience but it mostly worked for us.
The other great thing that Lulu got to experience this year was just the pure joy of undirected play and getting messy. She spent hours in the backyard mixing mud and making her own mud-paint recipe. She crushed chalk to make chalk paint and mixed clay to create her own works of art. She climbed trees higher than ever before and even engineered her own rope swing, made out of a skipping rope and an old toy-cupcake tray. Since both Husband and I work full time, Lulu is usually enrolled in camps, after-school programs and before and after care. And while she has a blast there she doesn't get the freedom and boredom that leads to the kind of innovation and creativity we saw this past year.
And so after all of the interrupted meetings and arguments over school work, I found myself checking the "remote learning" option on the survey that was sent around two months ago when schools here in California were ready to reopen for in-person classes. The whole remote school year I was telling myself "I can't wait for her to go back to school" but when the moment came, we did not jump at that chance. It seemed we had gotten into a kind of routine by that point in the remote school year, the three of us all home together working at our desks. I didn't want Lulu to have to go through the new-school-year struggles, and the pandemic style classroom (complete with masks and socially distanced recess), when school would be over in a couple months. I wanted her to enjoy those last few weeks of school in a familiar environment, getting muddy and dirty and slimy while complaining how bored she is the entire time. The past year has been really tough for us. But for Lulu, it was a taste of futuristic sci-fi remote school mixed with an old-fashioned messy childhood. And I will always be grateful that I got to witness her experience that.
Want more like this? Check out this post about 5 lessons learned from first two weeks of kindergarten.