Last summer we got out to travel through some of California and get to know our current home a little better. Monterey and Carmel are only a couple hours away from Silicon Valley and it took us two years to finally go exploring there. Isn't it always the case though, the closer you are to something the less you go there.
Clearly this visit was long overdue and I'm happy we finally made the time to go. We spent a total of four days wandering through Monterey county with our kids, a preschooler and one year old. Some things were great, others not so much. Here's how we spent four amazing days in Monterey and Carmel with kids:
Day One: Monterey Bay Aquarium and Cannery row
Cannery Row:
Cannery Row is a busy street full of seafood restaurants, wine tasting rooms and trinket shops. Walking along Cannery row and taking in the atmosphere is an experience of it's own and you could easily spend half a day walking down to the beach, checking out the shops and drinking some wine. After a visit to the aquarium, you can easily find a yummy seafood restaurant a short walk away.
Monterey Bay Aquarium:
The Monterey Bay Aquarium is located at the end of Cannery Row. It's a really great. There are a lot of interactive exhibits. The children loved touching the sea life and standing under the giant wave. Watching the sea Lions in the ocean is really fun too (though you can do that without going to the aquarium). The Monterey Bay aquarium is one of the most famous in the world. In the movie Finding Dory, The Marine Life institute is largely based on the Monterey Bay Aquarium.
Lulu loves Finding Dory. She was dressed up as Dory for Halloween when she was 3 years old. She absolutely adores Hank the septopus. She loves that he's grumpy but nice and funny (maybe he reminds her of Husband?). When I told her that we were going to the Aquarium that Finding Dory was based on, she was so excited. We spent the day finding as many of the creatures from Finding Dory as we could – including a Nemo, a Dory and even a Hank.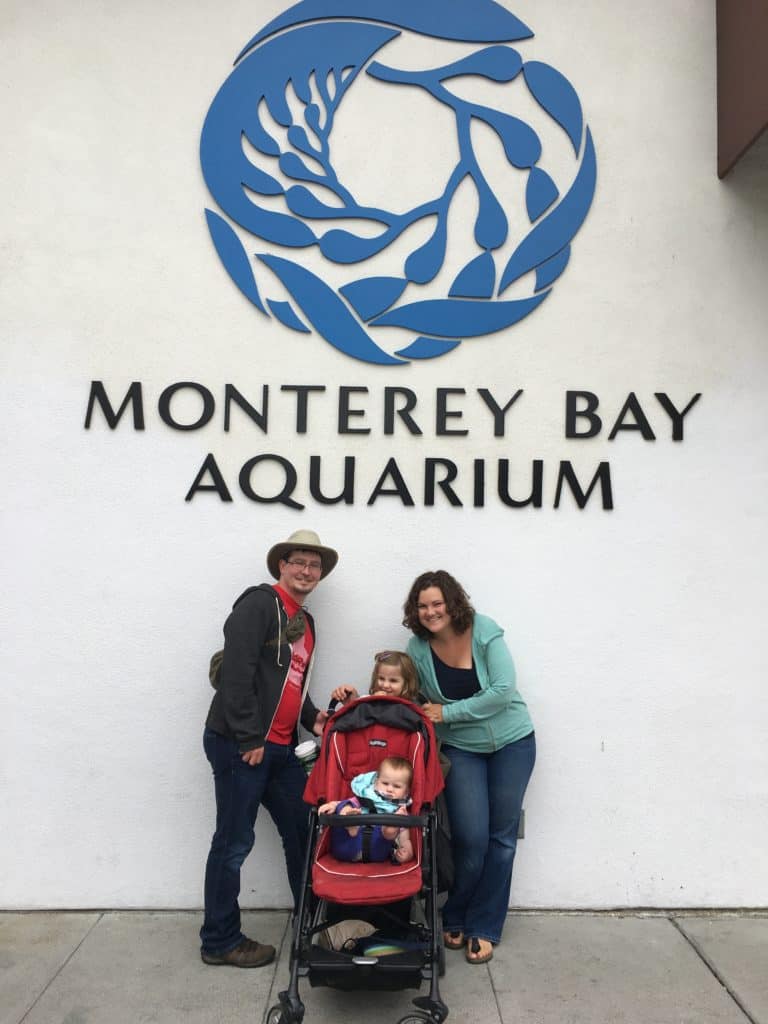 Day Two: Carmel wine country with kids
Carmel Valley
Carmel Valley is known for being a wine country. One thing I found surprising is that unlike Napa Valley or Niagara or Okanagan wine countries, many of the wineries and vineyards themselves are not designed for visitors. They're working wineries and instead they have their tasting rooms in Carmel, Carmel Valley Village and Monterey.
Tasting rooms in a strip mall are not always easy to do with children so we avoided those. One winery that did have a great tasting room and visitor space is Folktale Vineyard. There is a beautiful outdoor space for visitors, the wine was good and the atmosphere was really relaxing and very kid friendly. The tasting room as well as the outdoor patio is gorgeous. It's pretty large with lawn games as well as a sitting area. It's a little bit out of the way, but you could happily spend hours enjoying your time here. We enjoyed a light lunch to go with our wine tasting and played a bunch of lawn games with the kids. "Stick baby in the cornhole" was big sister's favourite activity. Of course we bought a couple of bottles. I was seriously contemplating getting a membership but I know that we won't be making it out to all the fun events they hold there.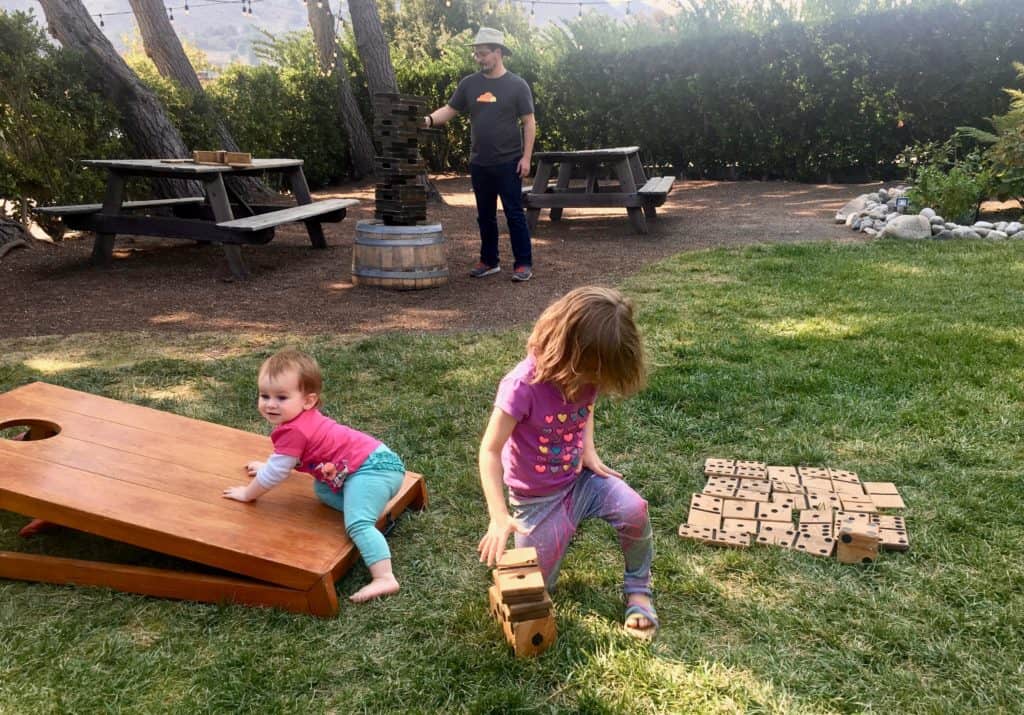 After Folktale we went to Carmel Valley Village where we stopped at a couple more tasting rooms and had an early dinner in a local restaurant. The village was quaint and cute with lots of local eateries. It was not as fancy or expensive as Carmel By the Sea, and we enjoyed the casual atmosphere and lack of crowds, especially with kids.
Pro Tip: Don't feel like driving? MST's Grapevine Express is a public transportation bus that goes all the way from Monterey along Carmel Valley road and into Carmel Valley Village. It stops at Carmel, Carmel by the Sea and Carmel Valley Village as well as various wine tasting rooms along the way, including Folktale. More info here.
The beach and Carmel By the Sea
If you have the time, add a whole day to spend in Carmel by the Sea. Unfortunately we didn't have as much time to dedicate to it as we'd have liked and only spent a couple hours here. Since we were just passing through, we weren't dressed for a day at the beach with the kids, which was too bad. Ideally I would have loved to spend more time relaxing on the gorgeous sandy beach and our children wanted to spend more time playing in the sand. We wandered around this picturesque town for a little bit. It was definitely busier and more crowded than Carmel Valley Village, but was also more manicured and very pretty. There are a lot of cute inns and restaurants here, as well as plenty of tasting rooms.
Be warned, the restaurants in Carmel by the Sea seemed to be fancier and pricier than in Monterey or Carmel itself, and many didn't seem very kid friendly. Granted we only peeked into a few of them before deciding to head back to Monterey for dinner instead.
Day Three: The 17-mile drive with kids (AKA the 17-HOUR drive)
When you enter one of three gates to the 17-mile drive you will get a map with a list of numbered stops. Just as the name suggests, this is a short twisty drive with a million stops along the way. The views are gorgeous at every turn and there are a few golf courses and eateries along the drive too.
It will not be enjoyable to stop at every stop, especially with children. Doing the 17 mile drive with kids calls for strategic stops. At every possible stop I had to weigh whether it was worth wrestling the kids back into their car seats after the photo op. Some stops had more to explore than others and were definitely worth getting out. We found these were the most interesting and picture worthy stops with kids on the 17 mile drive:
The inn at Spanish Bay for food (#4): We ate at Roy's at Pebble Beach, which was quite fancy and pricey. The food was delicious and they were very kid friendly, had a kids menu and high chairs. The patio was large and very relaxing, with gorgeous views of the water. The kids were able to wander around a little bit and we didn't have to worry about them bothering anyone, so it was quite a relaxing lunch despite the fancy restaurant.
Roy's is apparently a Hawaiian Fusion restaurant and they even occasionally host Luaus on their patio, in case you wanted to attend a Luau without actually flying to Hawaii.
Spanish Bay (#5): Beautiful stretch of white sandy beach and picnic area. If your kids like rocks and sand, this is a great place for them. There were a lot of rock balancing sculptures that Lulu enjoyed and tried to build a few herself.
Bird Rock (#10): This is a big stop where you can visit the washroom with your littles. This stop is mostly very rocky and Lulu enjoyed climbing the rocks down to the water and up again. Great photo ops on the rocks as well.
The Lone Cypress (#16): This stop has a beautiful view of the Lone Cypress tree, it's a long-ish stop with some steps leading to a viewing area.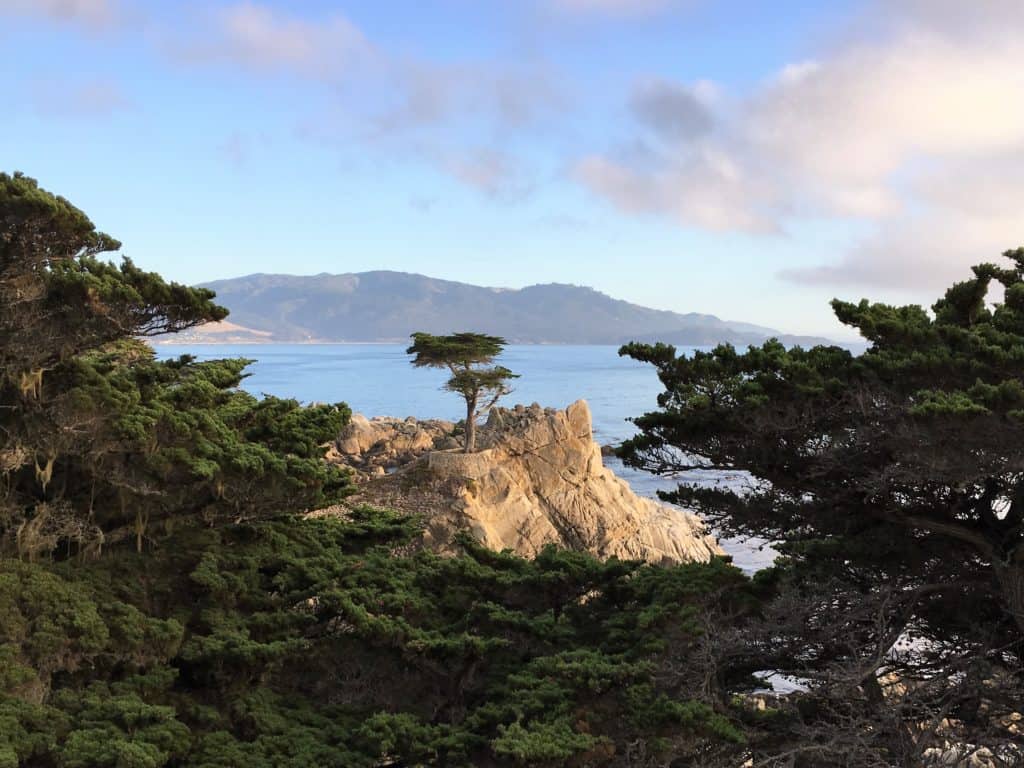 Pro Tip: The 17-mile drive is not free. At the gate you will be charged $10.25 per vehicle, cash only!
Day Four: Big Sur with kids
Big Sur is very close to Carmel and Monterey County. On our last day in Monterey county we enjoyed hikes and beach in Big Sur. After some research, we headed for Garrapata State Park (turnout 9,10). The hikes we did were not very long or difficult with gorgeous views of the coastline from up above. Lulu managed to hike just fine and we all really enjoyed the crazy surf hitting the cliffs and shooting water into the air.
Pro Tip: If you want to get great photos of your family with the view of Big Sur Coastline and crashing waves in the background, go before noon when the sun is not behind the water yet.
Garrapata State Beach (at turnout 18) is a long stretch of sandy beach and amazing crashing waves. From the road there are stairs that led down to the sandy beach. It was a great place for building sand castles and jumping in waves. The only downside of this beach was the giant piles of seaweed that were strewn on the beach. I don't know if this is something that is seen there year round or if it was a seasonal thing.
More tips for Monterey and Carmel with kids:
Unfortunately we didn't get to check out Carmel Mission which sounds really interesting. Definitely on our ToDo list for next time.
I would skip fisherman's wharf in Monterey. From what we saw, it's full of touristy restaurants serving pretty mediocre New England clam chowder. Though most of the restaurants did seem very kid friendly.
If you only have one day in Monterey with your kiddos, check out this plan for 24-hours in Monterey.
The drive to Carmel and Big Sur is incredible, especially if you take the scenic route. Read this for more info on taking a road trip on Historic Highway 1.

enjoyed this post? Check out some of my other wandering around with kids posts over here!